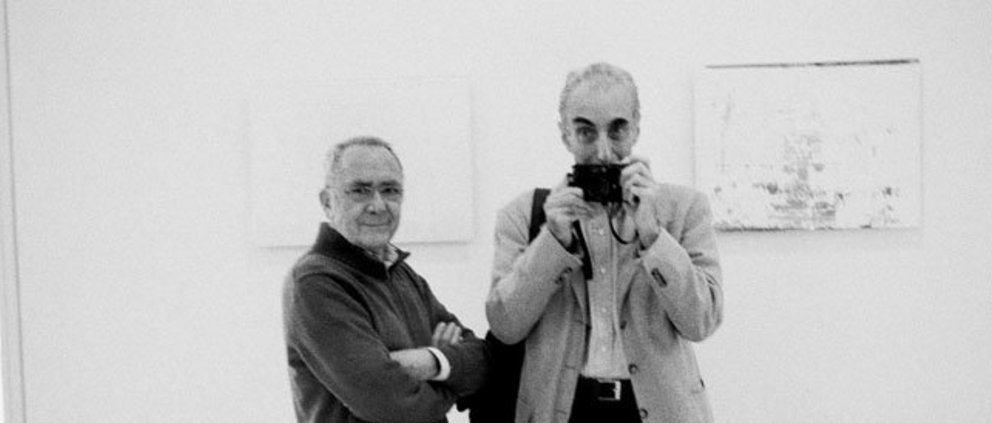 Benjamin Katz photographed Gerhard Richter. An exhibition on the occasion of Gerhard Richter's 85th birthday
An exhibition on the occasion of Gerhard Richter's 85th birthday
Benjamin Katz' photographs are distinguished by an extraordinary quality. Many of his artist portraits and studio photographs became contemporary iconic images. If we think of portraits of Georg Baselitz, A.R. Penck or Gerhard Richter that are remembered most, all have the same author: Benjamin Katz. He was born in Antwerp in 1939 and came to Western Berlin in 1956 to start his study at the Hochschule für Bildende Künste.
DATES

31/01/2017—21/05/2017
This biographic and artistic background may be the secret to his photographs. Katz is not lead by his documentary interest in the artists and their studios. He does not direct his camera to the obvious, to the process of artistic production. However, Katz is a conversation partner on eye level. He takes his pictures with his small Leica camera almost incidentally. Herewith, he is able to capture typical situations in which we recognize more than the familiar. Some of his pictures may be unmasking, but Benjamin Katz is not an investigative photographer. He comes to the artists as a friend and has remained such over decades. This friendship also coins his relation to Gerhard Richter who Katz has accompanied with his camera for more than 35 years.
In 2011, the Gerhard Richter Archiv of the Staatliche Kunstsammlungen Dresden has aquired the exhibited photographs for its collection. The convolut constitutes an important addition to its archival and artistic holdings. Benjamin Katz himself chose the images giving a representative insight into his actions in the painter's studio. A first presentation of the photographs was held at Kunsthalle Bremerhaven in 2012 on the occasion of the 80th birthday of Gerhard Richter. For the artist's 85th birthday, the Gerhard Richter Archiv presents a selection of its holdings at the Albertinum.
Benjamin Katz was born in Antwerp in 1939. In 1956, he started his study at Hochschule für Bildende Künste in Berlin. In 1963, Katz founded Galerie Werner & Katz together with Michael Werner . Since 1976, Benjamin Katz has been working as a freelance photographer and became known for his artist portraits. Between 2006 and 2008 he taught photography at Kunstakademie Düsseldorf. At the Große Kunstausstellung NRW Düsseldorf Benjamin Katz was awared with the Kunstpreis der Künstler 2016. His pictures were last shown at an extensive exhibition at the Musée d'Art Moderne de la Ville de Paris. Benjamin Katz lives in Cologne.
Gerhard Richter was born in Dresden in 1932. He studied at the Hochschule für Bildende Künste between 1951 and 1956. In 1961, he migrated to Western Germany to Düsseldorf. Here, he studied at the Staatliche Kunstakademie Düsseldorf between 1961 and 1964. Major retrospektives of his oeuvre include shows in Venice (1972), Düsseldorf (1986), Paris (1993), New York (2002) and London (2012). Gerhard Richter lives in Cologne.